Every Gift Makes a difference:
Legacy donor Miriam Weinstein
encourages all to give.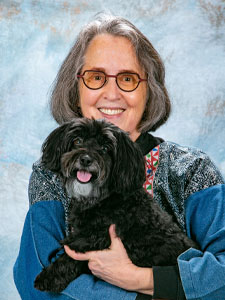 Miriam Weinstein
Miriam Weinstein believes strongly in the work of American Jewish World Service, which is why she has created a bequest in her will to ensure AJWS's work continues long into the future.
Miriam first learned about AJWS when then-president Ruth Messinger spoke in the Twin Cities more than 20 years ago. Messinger's words really resonated with Miriam. She loved the idea of an organization with Jewish in its name that was working to promote justice and human rights, especially for women, girls and LGBTQI+ people around the world.
"It's important to me that there is an organization that's letting people know that Jews are out there helping in the world," Miriam says. "It makes me proud that AJWS exists and that I'm supporting its work."
Miriam is following in the footsteps of her parents, who set an example of giving that inspires her today. "My parents were tremendously inspirational," she says. "I learned from them that it's a Jewish value to give back Miriam has a special connection to AJWS's work in India, as an adoptive parent of two daughters who were born there. "If I could be helping with my own hands, I would - but helping with my resources is the next best thing." your community. And, to me, 'community' doesn't just mean other Jews. It means the greater world."
And help she does. Miriam has long supported philanthropic causes by volunteering and through charitable contributions. At AJWS, she's an annual donor as well as a legacy donor - and now, by including a bequest in her will, she will be supporting the kind of global outreach that means so much to her, long into the future.
She notes that you don't need to be wealthy to make a legacy gift.
"I believe it's important for us each to give back at the level we can," she says. "I first named AJWS in my will many years ago. Right around the time the pandemic hit, I realized I needed to put my papers in order and I created an estate plan," she notes - adding that she hopes others will do the same.
"Everyone can make a legacy gift," she says. "Even a small planned gift makes a difference. Just give what you can, and your values will live on after you."
© Pentera, Inc. Planned giving content. All rights reserved.
Disclaimer