LARRY COHEN'S BEQUEST AND IRA GIFT WILL SUPPORT AJWS'S WORK FOR SOCIAL JUSTICE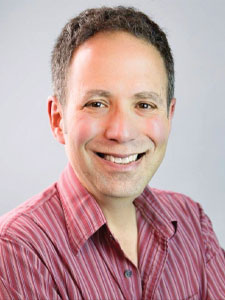 Larry Cohen
Longtime AJWS friend and supporter Larry Cohen has decided to leave a lasting legacy by leaving his estate to AJWS. As a lifelong social justice activist, his commitment to our shared mission began in his 20s. In the early 1970s, he joined the gay rights movement and became deeply involved in efforts to defend human rights in Central America. When he heard on NPR one day that there was an organization that was putting Jewish values into effect in countries in need, "something clicked," he says.
Larry was "inspired to hear that AJWS doesn't do things directly for people, but it supports people to do things for themselves." He believes this way of supporting communities is more powerful than direct charity. "The principle of empowerment has always inspired my activism," he says. "I was very gratified to have found a Jewish organization that unites my Jewish values with my social justice value of helping people create their own solutions to the challenges they face. It is much better, whenever possible, to support community organizations where people are helping themselves."
Larry quickly became a committed donor, beginning with individual gifts and eventually making an automatic contribution to ensure that he was supporting AJWS on a monthly basis. He makes all of his gifts to AJWS unrestricted, because "I believe in all of AJWS's work, and all of the projects seem equally important."
After Larry's mother died in 2008, he was in a position to make a large gift to AJWS in her memory. He also wrote a will and decided to leave his entire estate to the organization he loved—including his retirement account. By making a legacy gift to AJWS, Larry feels strongly that "I'm contributing something that will last beyond me. Some people leave their legacies through their children. For me, it's ensuring that I'm supporting justice in perpetuity."
Decades of activism
Larry got involved in social justice activism in the late '70s and early '80s working with MICAH (Michigan Interfaith Committee for Central America Human Rights)—a solidarity group in Central America trying to change U.S. policy to advance justice in that region. He also worked with a variety of gay rights organizations, including those that responded to the HIV-AIDS pandemic. And starting 1988, he served as volunteer coordinator for three years at the Whitman Walker Clinic—an LGBTQI+ health organization in Washington, D.C., focusing on HIV-AIDS and community mental health concerns.
Larry's dedication to human rights is deeply connected to his identity: "My coming out process as a gay man, after a long struggle with self-acceptance of my identity, was my main inspiration to get involved in social justice concerns generally," he says.
AJWS was a natural extension of acting on his values: "I began supporting AJWS as soon as I heard of it, and it quickly became my favorite charity," Larry says. "I learned that AJWS was involved in supporting LGBTQI+ community organizations too. That has enhanced my commitment to AJWS because it meant that I could combine my support of LGBTQI+ rights with my values of social justice and tikkun olam (repairing the world).
"On a personal level, being part of AJWS enhances and strengthens a sense of meaning and purpose in my life—I know I'm making a difference," Larry continues. "Professionally, I'm a psychotherapist, where I'm helping make a difference in the lives of individuals; but it leaves me with little time to help pursue justice causes on a larger scale. AJWS gives me an outlet to feel that I'm significantly making a difference more broadly, by supporting community organizations that are making progress on issues that matter deeply to me."
Hope for the future
Larry enjoys staying connected with AJWS by attending events with speakers in Washington, D.C.—and more recently, on Zoom. He is planning to semi-retire next year and hopes to travel with AJWS when it's safe to do so once again.
When he looks ahead, he's deeply gratified to know that his legacy gift will be making a difference long into the future. "Having a vibrant organization like AJWS in place benefits the whole Jewish community and the world. Even if you have children or other personal ways to do good beyond your years on earth, this is one of the ways that you can do some real good and continue living out your values in the broader world. I hope my gifts will ensure that AJWS will always remain a vibrant, strong organization that will continue its work for a long time to come," he concludes.
Larry hopes that sharing his story will inspire generosity in others, so that they might consider the legacies they could leave to support the future of AJWS. "You will be doing good well beyond your lifetime," he says. "There aren't a lot of opportunities to do that. And it feels good!"
© Pentera, Inc. Planned giving content. All rights reserved.
Disclaimer