Women's Rights and Jewish Values Inspire
Judy and Jack Stern to Make a Bequest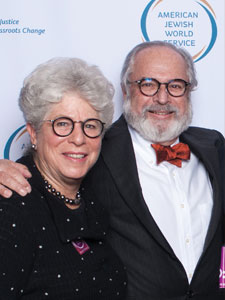 Judy and Jack Stern
In 2012, Judy and Jack Stern traveled to India on an American Jewish World Service study tour with their friend Robert Bank, who is today AJWS's President and CEO. The trip turned out to be life-changing for them both: Judy joined the AJWS board soon after, and it launched a powerful new interest in applying their Jewish values to pursuing global change. Reflecting their deep commitment to the organization, the Sterns recently decided to add a bequest to AJWS in their estate plan.
Judy was drawn to AJWS because of its work with women and girls. "AJWS exposed me to the idea that all around the world, it is women who are leading change," she says. She recalls hearing at an AJWS event that "if you give a woman in a village $25, she will feed her children, feed her neighbor's children and start a business—women transform communities." Over her years of support for AJWS, Judy is continually moved to see her philanthropy transform lives in the hands of courageous women activists.
The Sterns felt that a bequest was the best giving strategy to extend their commitment to the organization. "Giving a legacy gift is an opportunity to perpetuate our values and to ensure that the work of AJWS will go on even when we're no longer here," Jack says. Judy adds: "I love that when you're part of something like AJWS, you're participating in making the world a better place each day. And now we're doing that for future generations."
A Life of Leadership
Judy and Jack live in Rye, New York, and have four adult children. Jack is a neurosurgeon; Judy is a physical therapist who has devoted the last 35 years to teaching the Alexander Technique, which helps improve psychophysical well-being by reeducating individuals to use correct balance and movement that is inherent in normal growth and development. Judy was a senior faculty member at the American Center for the Alexander Technique. She also participated in the United Jewish Appeal-Federation of New York's Westchester Program Services Cabinet for 12 years, and she served two terms as their chairperson. The Sterns are active members of Congregation B'nai Jeshurun, where Jack served on the board of directors for six years.
Judy joined the AJWS board of trustees in 2013, and her dedicated work includes serving as chair of the board's development committee since 2017.
"It's the best board I've ever served on," Judy says. "It's a group of people whom I respect and admire. We are always learning and growing together, deepening our knowledge of human rights and refining what it means to lead an organization that is an extension of our Jewish values. It's unusual at my age to be in a situation where I'm continually encouraged to learn and grow.
"I also love being a part of something like AJWS. It gives me a sense of agency—I'm participating in making the world a better place, creating social change that impacts the lives of others."
Judy and Jack speak highly of CEO Robert Bank and his values-based approach to leadership:
"Robert is a man whose values are like the creases on his face: they're totally integral to who he is," Jack says. "He typifies for me the best of what it means to be a person who lives their values—in terms of generosity of spirit, in terms of spirituality, in terms of kindness, and his political and global views. He is so exceptional."
Judy adds: "It's such a privilege to be part of an organization run by someone living out a personal mission to make the world a better place."
Pursuing a Passion for Global Change
Judy says that AJWS has permanently changed the way she looks at the world.
"My understanding of the world and globalization totally shifted when I got involved with AJWS," she says. "I became aware of so much injustice that had been out of my view. AJWS shifted my understanding of what it means to be a person of privilege living a blessed life. I learned that with my privilege comes a certain amount of responsibility. And once I became part of AJWS, I saw that my responsibility extends to people all over the world."
"AJWS inspires Jews to think globally," Jack adds.
"This organization is full of people using their resources, their agency, and their values to serve people from all walks of life around the world," he says. "I think that is a really important message because I truly believe that we are all created in the image of God."
Leaving a Lasting Legacy
After nearly a decade of supporting AJWS's mission through their annual giving, the Sterns are proud that they are going to leave a lasting mark.
"We're at the age and stage in our lives where we think about how grateful we are to be able to be philanthropic and act on our values by setting up legacy gifts in our wills," Judy says. "AJWS is the number one place where I feel it's truly important for the work we've supported during our lifetime to continue after we've gone.
"And I'm proud that our children will know about our gift and how we feel about the work AJWS does, and perhaps it will guide them on how they live their lives. I also want my children to understand their privilege and their position as Americans. Understanding these concepts includes the responsibility to care for others. AJWS has been a powerful medium through which I have been able to teach them this lesson."
The Sterns are walking in the footsteps of their ancestors, acting on a tradition of giving that goes back generations in their families. And they urge others to give as well.
"I would say to someone, look what your philanthropy can do," Jack says. "Your gift to AJWS will transform other people's lives. And consider the possibility that it will also enrich your life in ways that are almost indescribable."
Giving a legacy gift is an unusual opportunity to perpetuate and ensure that the work of AJWS will continue, Judy says. "One thing I've learned about development and raising money is that the only reason we can do this work is that people give gifts that are an extension of their values. We believe in this work because it makes a difference and sustains the AJWS mission."
Jack urges others to consider bequests, whatever their financial means.
"The size of the bequest isn't important," he says. "All that matters is that you give what you can."
© Pentera, Inc. Planned giving content. All rights reserved.
Disclaimer