Joyanne Bloom Has AJWS Gift Annuities After Volunteering Around the World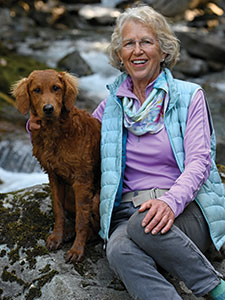 Joyanne Bloom
Joyanne Bloom had always dreamed of joining the Peace Corps but was never able to free up the required two years. Then one day in the early 1990s, she received a mailer from American Jewish World Service inviting supporters for shorter-term volunteer trips around the globe.
"It seemed like it was kind of a Jewish Peace Corps," Joyanne explains. "So I got in touch with them right away." She traveled with AJWS to Cambodia, Uganda, and twice to Mexico. She also served on the AJWS board and made a significant gift, setting up deferred charitable gift annuities that are now making payments to her every three months.
"I'd been making small donations once a year, and then another board member put the charitable gift annuities together," Joyanne says. "For me it was a no-brainer: You give them a lump sum and it helps them out; then I waited about ten years, and now I'm starting to get checks back every quarter. At this time of my life it's nice to get that deposited into my account—and I can feel good about having given to such a worthy organization. I would absolutely recommend it."
Joyanne, who lives in Juneau, Alaska, wants her gift to help AJWS continue to support emerging nonprofits around the world, ensuring that they can help change people's lives.
"When I was in Cambodia with AJWS, the Mekong River was flooding—and it wiped out the rice crop for the whole season," she recalls. "We were able to get emergency funds so that people could buy new rice to plant again, when otherwise they wouldn't have had the means to do that.
"There are a lot of crises that happen around the world, and it's great that AJWS usually has a contact close to where a need might be—after a tsunami or a coup or anything like that. I saw firsthand all the good we were doing. I really believe in the organization, and I believe in our approach. We're fighting for human rights and human dignity and empowerment."
She said she is proud that philanthropy is part of her Jewish heritage and her family—and she has passed that value on to her young grandchildren.
"They had a lemonade stand in front of my garage the other day, and they brought 50% of the money they made down to the local homeless shelter to do their tzedakah," Joyanne says. "I have grandchildren in another part of Alaska who collect and grow food at their school to supply the local Kenai Food Pantry. I'm really glad to know that it's instilled in my grandchildren. I think by having these charitable gift annuities with AJWS, it's just a given that the awareness gets passed down within families."
© Pentera, Inc. Planned giving content. All rights reserved.
Disclaimer