Russ Pratt Makes Bequest in Will to Support AJWS Endowment in Perpetuity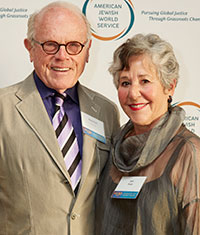 Russel (Russ) Pratt and his wife Joni
Russel (Russ) Pratt and his wife Joni have spent their more than 30 years together giving back, both in their community and around the world. So it was natural for them to become involved with AJWS. When a mutual friend introduced them to former AJWS President and CEO Ruth Messinger, the three clicked immediately. The following year, Joni traveled to Senegal with AJWS. Upon her return, Ruth asked if one of them would join the Board—so Russ joined and served for ten years.
To ensure that his support of AJWS will continue in perpetuity, Russ has made a bequest in his will to help fund the endowment. "We have a partial endowment fund that's begun, and it needs to grow over time," he says. His reasoning is simple: "AJWS needs an operating reserve in case of any emergency or difficulty," he says.
Creating change through local investment
Russ spent four years as Peace Corps Director for the Peace Corps in Botswana, and two years on the domestic staff—which fostered in him a deep knowledge and respect for international development work. He saw a similar model in AJWS that spoke to him: find a great local, in-country partner and give them the resources they need to succeed.
Russ believes that AJWS's practice of working with grassroots organizations is the best route to create true social change. "You start out with motivation to help the developing world, minority populations, and disenfranchised and marginalized people of the world. And the idea is to provide resources to local, on-the-ground people who can best solve whatever their problem is by themselves," he says.
Jewish values, global impact
"Tikkun Olam is big for us," he continues. "We're under the instruction from the Torah to help heal the world—this is great Jewish work on non-Jewish projects. The motivation, the mechanics, and the religious instructions that guide us—all those things together are why we support AJWS."
For Russ, supporting AJWS in perpetuity fell exactly in line with his Jewish—and human—values and priorities. "Caring and wanting to help are essential and elemental to the Jewish values that define how we live our lives," he says. "You don't need to label it as Jewish or Christian or otherwise, we just want to help. If you've been supporting AJWS for all the solid reasons we are now, then there's every reason for that support to continue."
© Pentera, Inc. Planned giving content. All rights reserved.
Disclaimer